Everything
started in
spring 91'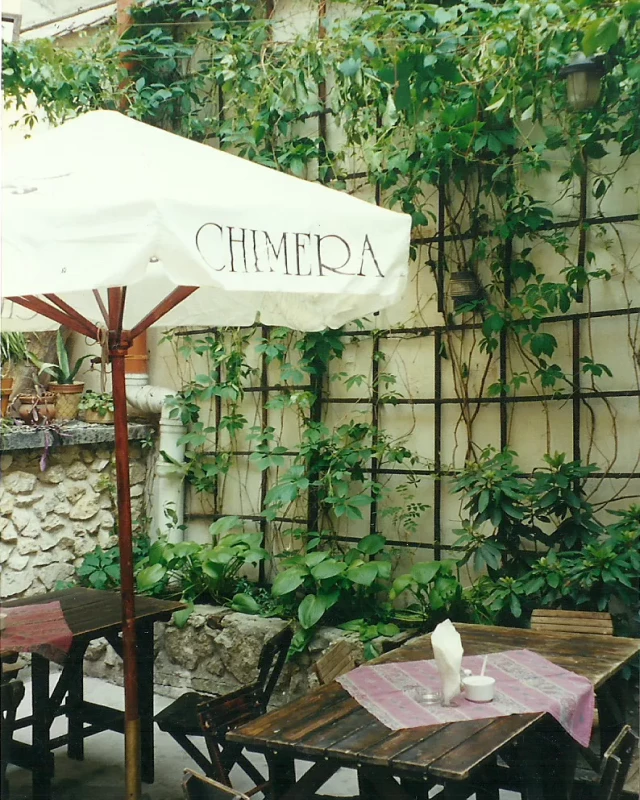 It all started in the spring of '91. When he, a young father, philosopher, historian, directing student, together with his wife-muse, a painter from the Academy of Fine Arts in Krakow, decided in a forgotten backyard, a tenement house at ul. Anny 3 in Kraków, open a bar full of dishes made of fresh, seasonal products. A light kitchen full of color and vitamins.
It was a thing in those days, completely unprecedented. The closest environment of the young Wroński couple looked at it with a slight fear and a wink.
No one believed that such an initiative could take off, let alone succeed. Hardly surprising if one remembers Kraków from the early 1990s.
And yet, Cracowians, thirsting for freshness in a gloomy city were eager to visit, a newly opened place on the map of Kraków.
This is how the first summer season passed.
In the autumn and winter seasons, Chimera for many years went down to the basement, where one could enjoy a counter full of rógroceries, looking at the fire burning in the fireplace. But this is now history, which few remember…
All year-round
in the courtyard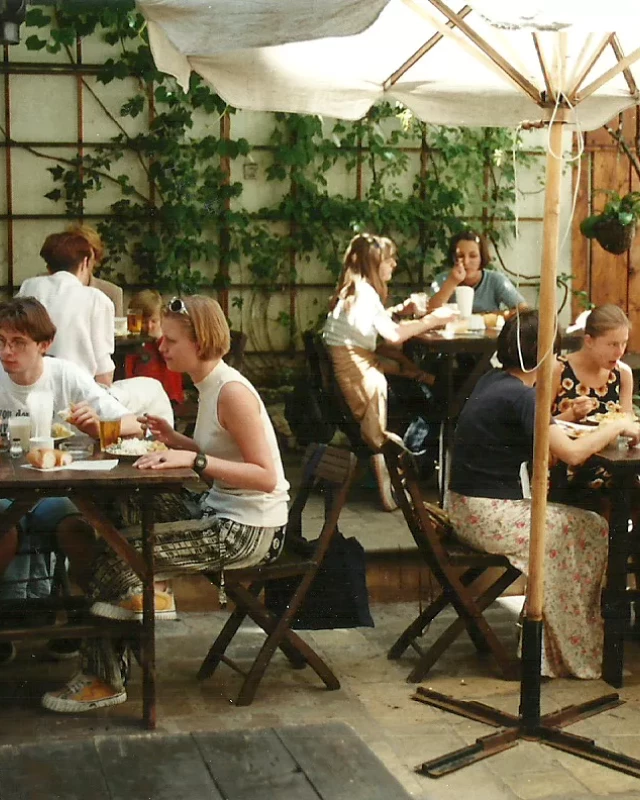 Since 2008, the salad bar has been located in a roofed courtyard all year round, heated in winter and air-conditioned in summer. Our garden is filled with lush, always green vegetation, providing shade and solace in the hot city center in the summer and helping to keep hope alive in the gloomy winter that surrounds us. It reminds you that spring will finally come.
The traffic in our premises is heavy, but we work fast.
Don't be afraid of the queue at the entrance, you will quickly find yourself at the beginning of it!
For over 30 years continuously we have been offering our guests a selection from a ten-metre long counter, full of a variety of salads, warm meat and vegetarian dishes. Inspired by recipes from around the world and traditional Polish cuisine. Our foods are seasonal, based on fresh products.
In spring you will be greeted by salads made from newberries or asparagus in different forms. In summer, cooling drinks made from nettle leaves or Lithuanian cooler. In autumn, plum in a variety of forms will be king, which will soon give way to pumpkin. In winter, you will be warmed by red borscht with kulebiak, and pickles will support your immunity.
We also
like to feed
your souls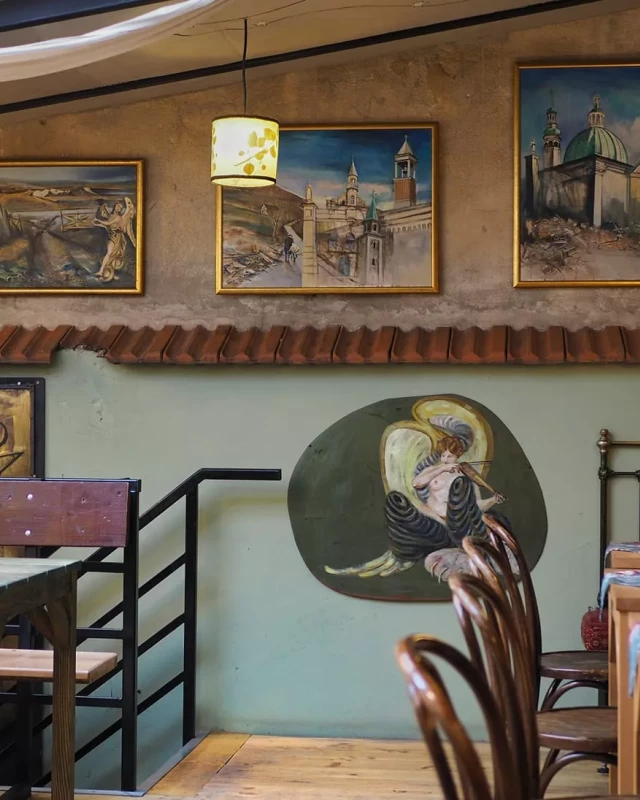 On weekend evenings, you will hear the soothing sound of the piano, sometimes accompanied by gentle singing, well-known and popular songs from the last century. And your eyes will enjoy the frescoes on the walls and the paintings of Kaja Wierzbowska-Wrońska, Arthur's wife.